Dr. Angelica Browne's Culture of Russia WLC 310 Student Projects
Spring 2020 
---
Louis's Mental Floorplan of Russian Culture
"My project is to capture how I perceived Russia before, what I learnt and my current areas and perspectives on Russian culture and what parts of Russian culture I'd explore next. The inspiration came from how often Russia was touted to be a diverse, but contradictory culture. And I wanted to build a mind map or a mind palace but decided to take a before, now and after route. I'd like to communicate how diverse Russia is, beyond the basic stereotypes. There are so many avenues of Russian culture."
--- by Louis Tran
---
Film Collage
"My project is set in the style of a short film that collages and compiles different elements of Russian culture that I enjoyed learning most about. I have always loved collaging with old magazines, but wanted to combine that with my passion for video as well. After doing our film project presentations, I wanted to incorporate the idea of these still images with some film to make it more engaging. I wanted to communicate the poems, readings, paintings, music, stories, and cultural elements from Russia that I enjoyed most about the class in a unique format. I want to show that Russia is not defined by just one thing, that it is composed up of all these differing parts that when combined make up this beautiful culture and country. I hope I was able to show that with this compilation, and in a way see what I am like as well!"
--- by Rialda Mustic
---
An American Icon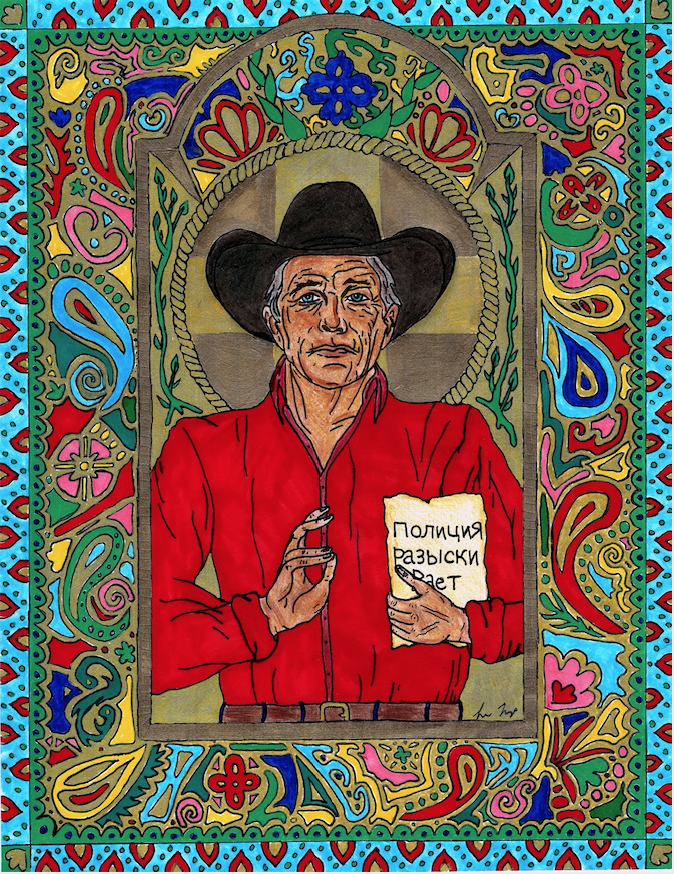 "My project is my take on a Russian religious icon. Using traditional and modern mediums (acrylic paint, gold leaf, and pen), I illustrated my vision of an American archetype and icon (pun intended) – the Cowboy. I have always loved Russian iconography. I think the artistry is beautiful, and the use of gold leaf, embellishment, and religious imagery has influenced my personal art style greatly over the years. In this specific instance, I got the idea to do a cowboy as the holy figure – instead of someone more traditional like Christ, or a saint – when we were studying the Russian cultural conflict between East and West, and the historically strained relationship with the United States. I wanted to create a piece that represented that divide, but also married elements from each culture – and who better to represent the West than a grizzled old cowboy surrounded by traditional Orthodox symbols? I want to communicate a feeling of healing conflict, and contradiction. While East and West will most likely never fully meld, I want someone looking at my painting to feel equal appreciation for tradition and change, opulence and severity. Though some might see cowboys and Russian religious icons as the two most different things in the world, I think that it's all just a matter of perspective."
--- by Sarah Lamp
---
Sounds of Russia
"For my final project I play four different snippets of Russian songs on my guitar. My inspiration was a YouTube video called "Nine Russian Songs You've Heard and Don't Know the Name of." When I watched this video, I was really surprised because I knew the majority of the songs. I would just like to communicate that Russian music is super cool."
--- by Sergio Beltran
---
An Illustration to the fairytale, Vasilisa the Fair
"My project is an illustration of a scene from the story "Vasilisa the Fair", which we read during Week 6 of this class. In this scene, Vasilisa is returning home through the forest with the light that the Baba Yaga has given her for her stepsisters. The inspiration for my project is a book of fairy tales, with illustrations by Ivan Yakovlevich Bilibin, that I have at home. It has been years since I have had an opportunity to draw something, and Bilibin's illustrations of this story inspired me to draw my own version of this scene. I would like to communicate the richness of Russian folklore and the influence that traditional stories like these still have on the stories that we know and tell today. I also feel that this scene shows the importance of family ties. It is Vasilisa's mother's blessing that sets her free from the Baba Yaga's house, and when she returns home, the skull burns her cruel stepsisters and stepmother to ashes."
--- by Claire Stockdill
---
An Illustrated Russian Fairytale Book
"My project is an illustrated children's book based on my favorite Russian fairytale: The Tsarevna Who Would Not Laugh by Aleksandr Afanasyev. The story struck me and I believe it to be much more meaningful than any of the fairytales I was told growing up because it portrays a humble worker who is kind and patient. I was inspired by my Liberal Studies major to make an illustrated fairytale book I could share with the kids I teach. I was also, of course, greatly inspired by the writing which includes so many morals in such a short and sweet story. I would like to communicate some key Russian values I learned throughout this class. I want my work to communicate a message to children about the importance of qualities like hard work, humility, patience and honor. I believe it's important to teach children that those qualities are important even if you are not rewarded for them."
--- by Drew Svensson
Watch the video presentation on YouTube
---
Knitting the Russian Orthodox Cross
"For my final project, I knitted the Russian Orthodox Cross. I recently learned that there is a special technique Russians use for knitting and as an avid knitter, I wanted to try it out. This Russian technique is a faster and more efficient way to knit than traditional American knitting. For my knitting project, I was inspired by the picture of hermits in a Russian monastery found in Chapter 5 of Figes' Natasha's Dance. On the front of the hermits' clothing, there is a cross with two straight horizontal lines and a slanted horizontal line at the bottom. This cross is unique as it was created in Russia during the Byzantine era. In my knitting project, I used red, browns, gold, orange, and gray. These colors were inspired by Russian Icons that were also very important in the Russian Orthodox Church. In many icons, the most dominant color is gold. To stress this color's importance, I chose to make it the color of the cross. Icons generally have figures wearing red and gray clothing with lots of browns and neutral colors throughout the painting which is why the background of my knitting has these colors."
--- by Sarah McRory
---
A Film Review of a Russian Musical Comedy-Drama Hipsters [Stilyagi], 2008
---by Brandon Koay
---
Travel Agency: St. Petersburg, Moscow and Sochi
"Mark and I created a mock travel agency presentation for the class to give them some ideas on what they can do when they visit and certain cities. The inspiration for our project was the fact that both of us are fascinated by travel and our enjoyment of sharing knowledge with our peers. Which cities you can visit, what food you can eat and things you that you can do while in the cities that we cover during our presentation."
--- by Enzo Fuenzalida and Mark Kassicieh
---
Russian Architecture: A Brief Guide
"For my project, I created a poster detailing examples of how Russian architecture has changed throughout history. Over many periods of revolution and ideological shift, Russia's architectural landscape has changed a lot. However, even the oldest styles (like those during Kievan Rus' rule) are still present in Russia. The inspiration was from seeing brutalist architecture in my life -- like at Cal Poly and government buildings in my city -- and wanting to see how Russian architectural styles changed over time. I hope to communicate that the Church designs and fancy buildings are much more than aesthetically pleasing but tell a hidden story of the history of the various groups and classes which make up Russian society. Historically buildings and public facilities have played a large role in Russian society, not only politically, but as settings for films, plays and character development."
--- by Jack Gallegos
---
In Search of Patriotism Through Song
"This project is about exploring how Russians have used music as an important medium through which to express patriotism. I explored the history of the Russian national anthem and how it helped to form a beautiful repertoire of emotional, patriotic music in the Russian culture. The inspiration for this project came from a song called Novorossiysk Chimes, which is a simple, emotionally-moving melody that was written by Russian composer Dmirtri Shostakovich to honor soldiers who died defending the port city of Novorossisyk against Nazi invasion. I have loved this song for a long time and in exploring its history, I uncovered a rich culture of patriotic Russian music that is unique and beautiful. In this essay, I hoped to communicate that there is a vast sea of meaning behind many of the pieces of music produced by the most famous Russian composers. Without knowing their history, it is easy to overlook the emotion in the music. However, doing research has led me to realize that there are millions of Russian souls memorialized within the notes of Shostakovich's Seventh Symphony. Knowing this history is imperative to making the listener's experience meaningful."
--- by Katie Dunlop
---
A Film Review of Panfilov's 28 Men (2016)
"I wrote a film review of the film Panfilov's 28 Men, which is a story about 28 Soviet soldiers successfully halting one of first attacks by the Nazis on the Soviet Union in 1941. This paper communicates a major theme that appears in the film, as well as the tactics and strategies that allowed for a successful defense against Nazi Germany, one of the most powerful countries at the time. Additionally, I talk about some of the controversy surrounding what is portrayed in the film and how it can be linked to propaganda."
--- by Jake Alexander
---
Art is Culture: A Look at the Bolshoi Theater and Russian Ballet
"My project is about the history of the Bolshoi Theater and how various Russian ballets throughout the ages have reflected aspects of Russian culture and its evolution throughout the years. I was inspired to do this project because I've always loved theater. I've always loved classic ballet performances like the Nutcracker, and I thought it would be interesting to learn more about The Bolshoi Theater and The Bolshoi Ballet since Russian ballet is seen as a pinnacle of fine art in today's society. I'm a bit of a history buff, so digging deeper into the origins of each was very interesting for me personally. I'd like to communicate that the fine arts in Russia have evolved alongside the country, and serve as a snapshot of the culture for any particular time period. The Bolshoi Theater, in particular, is a monument to Russia's famous ballet and the fine arts which help define the country's culture."
--- by Caitlin Royston-Murphy
---
Lev Tolstoy's War and Peace
"My project is a written essay about Tolstoy's "War and Peace" and important themes of the novel. I have heard it was one of the best written works of all time and I saw it in one of my grandparents' literature collections. In my essay as well as my presentation I would like to communicate how Leo Tolstoy articulates the humanization of his characters and how they are relatable even if they are from a different time period."
--- by Keelan Rarig
---
Russian Cooking is Fun!
"In our project, we decided to explore Russian cooking in a fun, simple way: making food! We were inspired to do a cooking video because we are all friends, and Nick Schnorr really enjoys cooking and trying new recipes. Hudson and I love trying new foods, so we thought a culinary project would be perfect. Even better, we all live together in SLO, so it seemed to make sense. We want to communicate that even though Russia has very different foods from America, that does not mean we cannot make them. Even though I am sure our food turned out different from what a Russian would expect, we all liked the taste and enjoyed being able to creatively experience Russian culture."
--- by Sam Buckman, Nick Schnorr, Hudson Brooks
Watch the first video on YouTube
Watch the second video on YouTube
---
Sampling Russian Foods
"This is a tutorial on how to cook some basic Russian foods to the tune of folk music and a brief history of the cuisine. I was inspired by all the recipes and Russian foods we explored and the music we heard in week 7. Those two elements are among my favorite aspects of Russian culture that I have learned about this quarter, so I decided to do some additional research to learn more and experiment with some recipes. I would like to communicate the knowledge I have learned and share the process in an entertaining way."
--- by Kaitin Wells
---
Pirozhki and an Afternoon Tea in Russia and Central Asia
"In this video I am sharing with you the process of cooking a traditional Russian pastry. I did this project individually with help from my family. The pastry is called a Pirozhki. I made some with meat and onions and some with apple filling. The process in all took a couple hours because you have to wait for the dough to rise. As well as showing you how to make this tasty snack I also shared with you more about my own background as well as what an afternoon tea and snack would look like in Russia or Central Asia. I had my mother and father join me and had them share a few things as well. I hope you enjoy the video. The only thing I am disappointed about is that since I took the video on my phone when I uploaded it, it cut off the top and bottom portion of the video."
--- by Levi Krull
---
Making Syrniki
"For my project, I decided to make a video tutorial on how to make syrniki, traditional Russian cheese pancakes. I wanted to show an example of a traditional Russian breakfast and show Russia's unique take on a breakfast food that is common across many different cultures."
--- by Tanya Tkacheva
---
Russian Breakfast: A Recipe Book
"Our final project is a recipe book about traditional Russian breakfast foods. We made Blini, Semolina Porridge, and Syrniki. The inspiration for our project was the concept of passing down recipes from generation to generation, something that is very common is Eastern Europe. Because of this, we decided to make our recipe book of traditional Russian breakfasts. We want to communicate it is important to step out of your comfort zone when it comes to food, because there is a lot to learn about a culture from its traditional cuisine. We learned a lot about the cultural background of these dishes while preparing them."
--- by Natalie Thomas, Michael Klee and Morgan Nishisaka
---
Potato Kugel and White Russian
"Our project is focused on recreating the classic Jewish recipe, Potato Kugel. This dish originates from the Ashkenazi Jewish culture. This culture was very prominent in Russia. Potato Kugel is commonly served during Shabbat, also known as the Sabbath, and various religious holidays. We also made the White Russian cocktail drink, which was created in the 1960's when someone added cream to the Black Russian. We wanted a more tangible way to experience Russian culture, so we decided to cook. Cooking is a fun way to connect to the culture, history, and people of Russia. We have never cooked a Russian meal, so we thought it would be exciting to try something new. We would like to communicate the familial and historical importance of the recipe. Potato Kugel is a dish that is passed down through families and there are many variations. The recipe is simple and uses few ingredients, making it more readily available for people over many years."
--- by Daena Hardash and Hailey Wesling
Spring 2019 
---
Exploring Russian Folk Dance: Presentation and Workshop
Exploring Russian Folk Dance: Presentation and Workshop: "Over this quarter, as a class, we discussed various aspects of Russian culture including paintings, music and etiquette. In our final project we wanted to explore Russian folk dances. Traditional Russian Dance is as diverse as Russia itself. During our presentation we are going to deep dive into the origins of folk dance, the common characteristics across the different dances and finally introduce the class to a couple of dances. These dances were inspired by the cultural impact of the Asian and European descent of Russia. The dances pull attributes from the Chinese with their jumping and the Germans with their footwork. They have also inspired many art forms following their tradition, many Russian ballets dress in the colorful and orient costumes and incorporate various moves into the ballet form. There are many popular dances but for this project we will highlight two of them, the Barynya and the Khorovod. Each take a unique form of dance, with the Barynya being athletic and powerful and the Khorovod whimsical and soft. Our goal is to teach a fun basic dance moves and get the class involved with the Russian folk dances."
--- by Megan Mooney, Cameron Tilmont, Nicklaus Wilcots, John Theofanides and Harrison Wygal
---
Exploring Russian Cuisine:
Food of Russia:
"This project is intended to explore and experience the wonderful Russian cuisine we learned about throughout the quarter. Like most cultures, food is an essential part of the experience, for what is life without good food? This project is inspired by the delicious and mouth-watering Russian foods we have read about and seen but have not tasted or created. Each group member chose a food group they were curious about and set out to create it. We intend to communicate, through food, the richness and joy of Russian culture."
--- by Maya Katz, Michael Gates. Vlad Killiakov, James Burwell, Colin Ridgley, Vincent Tham
Chocolate Potatoes:
"Our project is about making the Russian dessert shokoladnaye kartoshka or "chocolate potatoes. We chose this topic because we enjoy exploring others' cultures through food, and we thought this dish looked delicious and seemed to be very popular in Russia. As part of our project, we prepared shikoladnaye kartoshka for the class to sample and created a powerpoint outlining its simple recipe to teach the class. We would like to teach the class about a favorite childhood treat in Russia because it is relatable and gives perspective on the culture."
--- by Cory Baxes and Alyssa Swanson
---
A Comprehensive Travel Guide to Visiting Russia: Moscow, St. Petersburg and Kazan
"Our project is about encouraging the tourism of a country with many amazing sites and interesting contradictions―Russia. After learning about three of Russia's main cities, Moscow, St. Petersburg, and Kazan, the team was inspired to create a travel brochure highlighting some of the main attractions and important information about these three destinations. The ultimate message that is being communicated is to not only highlight the magnificence of certain places in these cities, but also to entice everyone to go explore and experience Russian culture. This project will be highlighting important architectural achievements, museums, cuisine, and other various important sites that every person visiting Russia should check out."
--- by David Gallab, Griffin Hornby, and Caroline Hacobian
Spring 2018 
---
Intercultural No-goes: an enlightening video highlighting possible cultural misunderstandings between Russians, Americans and Latinos
--- by Ricardo Gustavson, Taylor Sanchez; Olivia Pepe-Phelps; Alex Buchanan
---
Da, Printsessa a rock song written and performed with traditional Russian music instruments: a balalaika and a vargan = a Siberian mouth harp
--- by Darya Shtykalo, David Vacchio, Kellen Giuliani
---
Painted Words
"We wanted to paint our interpretations of readings we had throughout the quarter that we enjoyed the most."
--- by Lara Sly and Kyle Shikashio
"My project is drawn from a scene of Anton Chekhov's short story, The Woman with The Dog. The passage reads,
"At Oreanda they sat on a seat not far from the church, looked down at the sea, and were silent. Yalta was hardly visible through the morning mist; white clouds stood motionless on the mountain-tops. The leaves did not stir on the trees, grasshoppers chirruped, and the monotonous hollow sound of the sea rising up from below, spoke of the peace, of the eternal sleep awaiting us. So it must have sounded when there was no Yalta, no Oreanda here; so it sounds now, and it will sound as indifferently and monotonously when we are all no more. And in this constancy, in this complete indifference to the life and death of each of us, there lies hid, perhaps, a pledge of our eternal salvation, of the unceasing movement of life upon earth, of unceasing progress towards perfection. Sitting beside a young woman who in the dawn seemed so lovely, soothed and spellbound in these magical surroundings—the sea, mountains, clouds, the open sky—Gurov thought how in reality everything is beautiful in this world when one reflects: everything except what we think or do ourselves when we forget our human dignity and the higher aims of our existence."
One of Anton Chekhov's talents is his ability to capture bare elements of the human condition. He is able to tell an eloquent story that, in many ways, is driven by personal reflections or internal thought. Through these elements, he is able to transcend cultural and generational boundaries and draw the reader in, making them felt heard and understood."
--- by Lara Sly
"My project is a depiction of a passage from the fairytale, A Tale About a Fisherman and a Fish." The passage is,
"The old man did not dare say a word; he was too frightened to open his mouth. Off he went towards the blue sea. Raging there was a black storm! Waves were flinging up spray; angry waves were crashing and howling. He called out to the golden fish and the fish swam up and asked him, 'What is it, old man, what do you need?' The old man bowed to the fish and said, 'Have mercy on me, Sovereign Fish! What am I to do with this wretched woman…she wants to be a Sea Empress…Not a word did the fish reply. She just slapped her tail on the water and dived deep into the blue sea."
One of my favorite parts of this fairytale is how Aleksandr Pushkin is able to convey so much using very few words. The story is one of greed, helplessness, and how taking advantage of others may backfire. I thought that Pushkin did an excellent job creating a setting and developing the characters. Another reason I enjoyed this story so much because of how similar it is to some of the fairytales I grew up with as a child. It may not be similar in plot, but they share common themes that I recognize. For example, talking animals are quite prevalent, and same with there being a moral to the story. It is interesting that no matter where a story comes from, people are still able to identify with the overall message."
--- by Kyle Shikashio
---
A Serving of Culture: Traditional Salads of Russia
"Food is such an elemental component of the culture of any nation, but not an aspect that can easily be captured with words or images the way that other cultural aspects, such as history or visual art can. Our project is exploring two of the common salads in Russian cuisine, the Vinaigrette salad and the Olivier salad. We made these salads to gain an understanding of the normal food of Russia. Furthermore, we wanted to capture the cultural context in which Russian normally make and serve these two salads. By presenting a part of Russian culture, that although may taste different, is fundamental to our own idea of self. We would like to communicate that although people from different cultures may look and behave differently, we are in our essence all human. This mindset often escapes people in today's fast paced, highly polarized time."
---By Hannah Neer and Chris Mashburn
---
A Delightfully Popular Russian Dessert: Medovik
"Our project is to bake the beloved Russian Honey Cake, "Medovik." We believe that being able to make a popular and highly favored Russian cake will allow the class to experience the authentic taste of Russian cuisine. We were inspired to take on this task because we feel that baking is a form of art that wholly embodies the historical and traditional culture of Russia, and is an activity that allows each of us to take part in. We would like to communicate that Russia has its own unique culture by using a customary dish to explore and emphasize how Russian tradition is embodied in a delightfully popular dessert."
--- by Clair Arthur, Tori English, Caroline Stiver, Blake Davidson, Paige Becker
---
Related Content