World Languages Lab
Welcome to the World Languages Lab!
The World Languages Lab is a space open to all Cal Poly students taking language classes in the World Languages and Cultures Department.
At the World Languages Lab, we have lab monitors (fellow Cal Poly students) who can assist you with questions you may have about an exercise, a composition, or grammar points in the target language (Spanish, French, and Chinese). You can also practice your conversation skills with them!
Look at the schedule below (in yellow) to see which lab monitors are available this quarter, at what time they can be found in the lab, and which languages they speak. Give it a try!
We also offer the Placement Exam at the World Languages Lab. To know when we will be offering the next Placement Exam, please take a look at the home page of the WLC 
department where the upcoming exam dates will be posted.
Finally, feel free to drop by the lab when there is a monitor available to do your homework assignments and to study alone or in groups. 
NOTE: The World Languages Lab is closed when no lab monitor is available, and it is also closed during finals.
LOCATION: Building 10, Room 128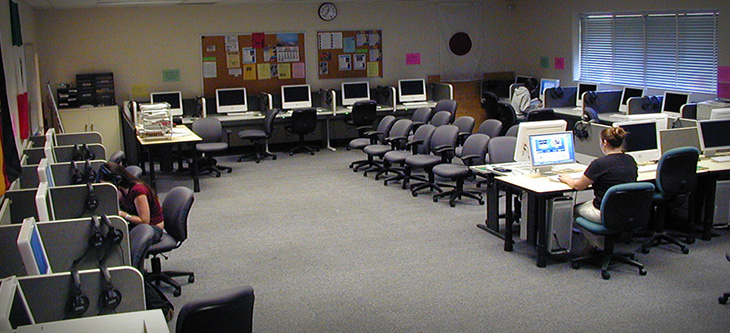 Lab Calendar Winter 2020
For more information about the World Languages Lab, please contact Dr. Silvia Marijuan: smarijua@calpoly.edu
"MEET OUR LAB MONITORS"
SOPHIA (Spanish)
Hi everyone! I'm Sophia and I'm your new Spanish lab monitor. I'm a first year Microbiology major from Echo Park, Los Angeles. In my free time I love reading, swimming, hiking, and exploring the outdoors! Some of my favorite books in Spanish are Cien años de soledad (Gabriel García Márquez), Rosario Tijeras (Jorge Franco), and La casa de los Espiritus (Isabel Allende). My favorite movies in Spanish are La Vendedora de Rosas, Palmeras en la Nieve, Los Olvidados, and Santo Contra Las Lobas. I look forward to meeting you!

ALE (Spanish)
¡Hola! My name is Alessandra (Ale) and I am a Spanish Lab Monitor. I am from Lima, Peru and I moved to San Francisco two years ago to graduate from high school and pursue higher education: Industrial engineering at Cal Poly SLO.  
I'll be honest: It has been pretty hard, but experiences like this job in which I can share a little piece of my culture, makes me really grateful. So, come to the lab, I'll be more than happy to help!
PS: If you were wondering, this is a pic in Lake Parón, Ancash, Peru<3
LYDIA (Chinese)
I'm Lydia and I'll be your new lab monitor for Chinese!
I was born in a city in China called Guangzhou and I currently live in San Francisco with my family.
I am a second year student majoring in Nutrition with a concentration in Applied Nutrition.
I like spending my free time in local cafes, so you'll most likely catch me at Kreuzberg or Ascendo in Downtown on weekends. 
Please don't hesitate to drop by during lab hours because I'll be more than happy to offer assistance.
Looking forward to meeting you all! :)
INGRID (Spanish)
My name is Ingrid and I am a second year Political Science major with a concentration in Global Politics. I am from Chula Vista and my first language is Spanish. In my spare time, I go to concerts and thrift shopping.
SAMANTHA (Chinese)
Hey everyone! I'm Samantha and I will be your new Chinese lab monitor. I am a third year Architectural Engineering major from Rowland Heights, CA. I love watching Chinese dramas and reading so feel free to ask for any recommendations! I look forward to meeting all of you!
Related Content