World Languages Lab
Tutoring sessions for Fall (2022)
Tutoring sessions for Fall 2022 will be published at the end of Week 1
Placement Exam
The Placement Exam we usually proctor at the World Languages Lab will also be administered online through Zoom. 
Next Placement Exam for Spanish and French will take place on
Thursday September 8 at 6 pm and on Tuesday September 13 at 6 pm
Please follow the instructions:
Dr. Silvia Marijuan (smarijua@calpoly.edu) will be the proctor; please be ready to provide the proctor with your Cal Poly email account. Also, have your Cal Poly email account open.

Enter the Placement Exam Zoom Meeting by clicking on the link below

:

https://calpoly.zoom.us/j/96200774261

Meeting ID: 962 0077 4261

You will enter the waiting room; please allow for about 5 minutes for the proctor to check you in.

Once you've been checked-in, you will receive a unique link to the placement exam in your Cal Poly email and be told how to proceed.

You will get your results right away and will receive further instructions about how to obtain a permission number if you are placed in a course higher than SPAN 101 or FR 101
For more information about the Placement Exam and tutoring sessions, please contact Dr. Silvia Marijuan
:
smarijua@calpoly.edu
NOTE: lab monitors are not available during finals.
WORLD LANGUAGE LAB LOCATION: Building 10, Room 128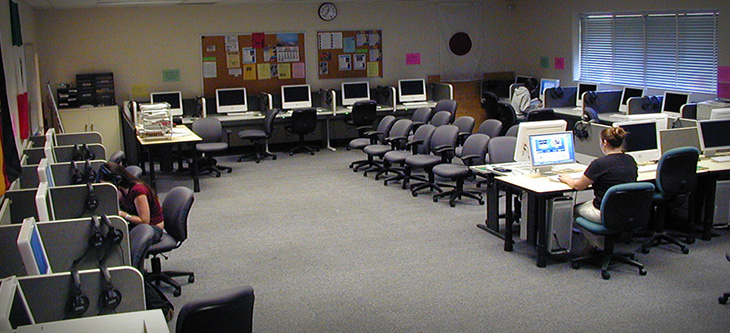 "MEET OUR LAB MONITORS FOR WINTER 2022" 

LESLIE (Spanish)
Hey everyone! My name is Leslie Gomez and I'm here to help with your Spanish as a new Lab Monitor tutor! I'm a first year English major interested in teaching and I'm from a small town called Modesto, California.  When I'm not doing schoolwork, I enjoy painting, dancing, reading, watching Netflix or Hulu shows, listening to music, thrifting, and spending time in nature! Some of my favorite books in Spanish are Cien sonetos de amor (One Hundred Love Sonnets) by Pablo Neruda and the Harry Potter series in Spanish! My favorite movies in Spanish are Coco, Encanto, and No se aceptan devoluciones (Instructions Not Included). My favorite shows in Spanish are Mi corazón es tuyo (My Heart is Yours), El Chavo, La rosa de Guadalupe (The Rose of Guadeloupe), and Como dice el dicho (As the Saying Goes). I'm super excited to help you guys in learning Spanish so please don't be nervous about reaching out! 

MARLEN (Spanish)
Hello! My name is Marlen and I am a third year Sociology student with a concentration in Social Services. I transferred from AHC and this is my first year at Cal poly. I'm super excited to help y'all with Spanish! Fun Fact I have 5 siblings and a twin sister who also attends Cal Poly!
SOPHIA (Spanish)
Hi everyone! I'm Sophia and I'm your new Spanish lab monitor. I'm a first year Microbiology major from Echo Park, Los Angeles. In my free time I love reading, swimming, hiking, and exploring the outdoors! Some of my favorite books in Spanish are Cien años de soledad (Gabriel García Márquez), Rosario Tijeras (Jorge Franco), and La casa de los Espiritus (Isabel Allende). My favorite movies in Spanish are La Vendedora de Rosas, Palmeras en la Nieve, Los Olvidados, and Santo Contra Las Lobas. I look forward to meeting you!

Related Content