World Languages Lab
Tutoring sessions for Fall (2023)
Spanish
Mondays

from 12:30pm-1:30pm (

at the Lab with Mariela) (except for October 2nd)

Wednesdays from 12:30pm-1:30pm (

at the Lab with Mariela

)

Fridays from 11am-1pm (Zoom with Mariela) Zoom link:

https://calpoly.zoom.us/j/82199439120
Chinese
Thursdays from 3 to 4pm (at the lab with Ellen)
Placement Exam
The Placement Exam we usually proctor at the World Languages Lab will also be administered online through Zoom. 
Next Placement Exam for Spanish and French will take place on
Monday, October 16 at 6:00 pm via Zoom.
Zoom available on our website (wlc.calpoly.edu)
Please follow the instructions:
Dr. Silvia Marijuan (smarijua@calpoly.edu) will be the proctor; please be ready to provide the proctor with your Cal Poly email account. Also, have your Cal Poly email account open.

Enter the Placement Exam Zoom Meeting by clicking on the link below

:

https://calpoly.zoom.us/j/96200774261

Meeting ID: 962 0077 4261

You will enter the waiting room; please allow for about 5 minutes for the proctor to check you in.

Once you've been checked-in, you will receive a unique link to the placement exam in your Cal Poly email and be told how to proceed.

You will get your results right away and will receive further instructions about how to obtain a permission number if you are placed in a course higher than SPAN 101 or FR 101
For more information about the Placement Exam and tutoring sessions, please contact Dr. Silvia Marijuan
:
smarijua@calpoly.edu
NOTE: lab monitors are not available during finals.
WORLD LANGUAGE LAB LOCATION: Building 10, Room 128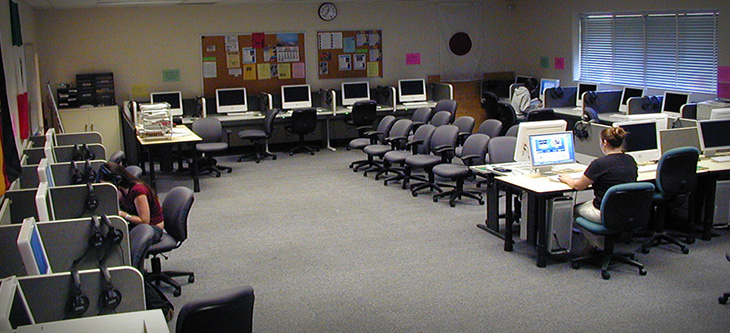 "MEET OUR LAB ASSISTANTS FOR SPRING 2023" 

Spanish lab assistants
Mariela
Hola, mi nombre es Mariela. Nací en los Estados Unidos pero mis padres son de Oaxaca, México. En mi tiempo libre me gusta ir a caminar y mirar películas. ¡He hablado el español toda mi vida!
Lidia
"Hello! My name is Lidia and I'm a first-year computer engineering student at Cal Poly. Hope to minor in Spanish soon! I am Hispanic and was raised in a Mexican household since I was born. I come from a small town in the Central Valley called McFarland. I'm excited to get to know you! Feel free to stop by our language lab for any assistance! My coworkers and I will be happy to help you to the best of our abilities. Hope to see you around!"
"¡Hola! Mi nombre es Lidia y soy estudiante de primer año de ingeniería informática en Cal Poly. ¡Espero tener un minor en el idioma de español pronto! Soy hispana y me crié en un hogar mexicano desde que nací. Vengo de un pequeño pueblo en el Valle Central llamada McFarland. ¡Estoy emocionada de conocerte! ¡Siéntete libre de pasar por nuestro laboratorio de idiomas para cualquier ayuda! Mis compañeras de trabajo y yo estaremos encantadas de ayudarte en la medida de nuestras posibilidades. ¡Espero verte por aquí!"
French lab assistant
Aren
Hi! I'm Aren and I am your french lab assistant. I am a third-year Industrial Engineering major. I love playing soccer, skiing, and working out in general. I am also a big fan of French music, hip-hop, rap, and even old songs!
Related Content