World Languages Lab
Tutoring sessions for Spanish
Spanish Tutoring with Ashley- Lab Assistant 
Mondays from 2 pm to 3 pm

via Zoom
Join Zoom Meeting (Ashley) 
Meeting ID: 835 9565 5012 
Wednesdays from 2 pm to 3:30 pm

at the Language Lab
Fridays from 12 pm to 1 pm

 via Zoom
Join Zoom Meeting (Ashley) 
Meeting ID: 835 9565 5012 
Spanish Tutoring with Sophia- Lab Assistant 
Tuesdays from 10 am to 12 pm

via Zoom
Join Zoom Meeting (Sophia) 
Spanish Tutoring with Sophia- Lab Assistant 
Thursdays from 5 pm to 7 pm at the Language Lab
Fridays from 11 am to 12 pm via Zoom
Join Zoom Meeting (Sophia) 
Placement Exam
The Placement Exam we usually proctor at the World Languages Lab will also be administered online through Zoom. 
Next Placement Exams for Spanish and French will take place online through Zoom on Wednesday, November 3rd from 5:00 to 6:00 pm 
Please follow the instructions:
Dr. Silvia Marijuan (smarijua@calpoly.edu) will be the proctor; please be ready to provide the proctor with your Cal Poly email account. Also, have your Cal Poly email account open.

Enter the Placement Exam Zoom Meeting by clicking on the link below

: https://calpoly.zoom.us/j/96200774261

You will enter the waiting room; please allow for about 5 minutes for the proctor to check you in.

Once you've been checked-in, you will receive a unique link to the placement exam in your Cal Poly email and be told how to proceed.

You will get your results right away and will receive further instructions about how to obtain a permission number if you are placed in a course higher than SPAN 101 or FR 101
For more information about the Placement Exam and tutoring sessions, please contact Dr. Silvia
Marijuan:
smarijua@calpoly.edu
NOTE: lab monitors are not available during finals.
WORLD LANGUAGE LAB LOCATION: Building 10, Room 128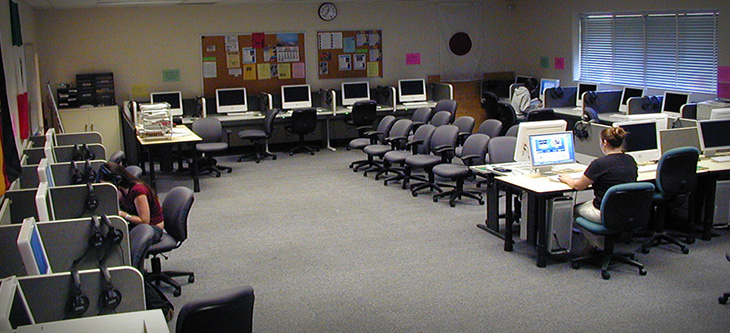 "MEET OUR LAB MONITORS" (Lab monitor bios will be updated soon for Fall 2021)
SOPHIA (Spanish)
Hi everyone! I'm Sophia and I'm your new Spanish lab monitor. I'm a first year Microbiology major from Echo Park, Los Angeles. In my free time I love reading, swimming, hiking, and exploring the outdoors! Some of my favorite books in Spanish are Cien años de soledad (Gabriel García Márquez), Rosario Tijeras (Jorge Franco), and La casa de los Espiritus (Isabel Allende). My favorite movies in Spanish are La Vendedora de Rosas, Palmeras en la Nieve, Los Olvidados, and Santo Contra Las Lobas. I look forward to meeting you!

Related Content