Dr. Angelica Browne's German 202 Student Projects
Winter 2020
---
Ein Kartenspiel deutscher Dialekte
Ein Kartenspiel deutscher Dialekte is a card game of German dialects "that helps students to learn to recognize the various German dialects. We included quotes and phrases in Bairisch, Plattdeutsch, Berlinerisch, Sächsich, Kölsch and Swiss German. This card game should help people to learn to recognize the patterns that are found in each dialect, such as vowel pronunciation changes or dropped word endings that are commonly found in various phrases."
--- by Stefany James, Liam Keeton and Nicholas Blonstein
Read the full game description   
Winter 2019
Here are some photos of the skits and puppet shows performed in class. 
---
Der Prinz und der Arme [The Prince and the Pauper] is a "skit about a prince and a pauper who are fighting for the princess' affections. The princess wants nothing more than to study at Berlin University however." Inspired by Grimm's Das Tapfere Schneiderlin.
--- written and skillfully performed by Cameron Bauer, Anthony Zunino, Rocio Martinez
---
The Frog Prince
Ein Puppenspiel: Der Froschkönig und die Prinzessin [The Frog King and the Princess] is "a short puppet show about a princess in an unhappy marriage and a cursed frog. We wanted to write a fairy tale that was different from the typical tales. We want the princess to decide what is best for herself."
--- by Carlin Liang, Rita Yu, Hannah McDonnell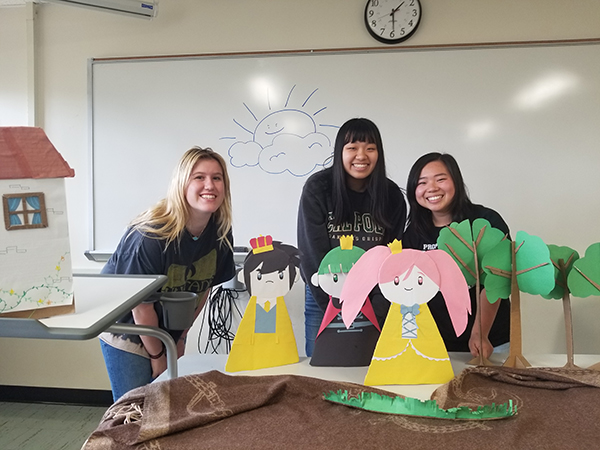 ---
SLO auf Deutsch (SLO in German)
SLO auf Deutsch [SLO in German], a website that would guide German-speaking tourists in their exploration of the Central Coast and San Luis Obispo.
--- by Troy Kawahara und Sarah Samora
Winter 2018
An example of an outstanding final project created by intermediate-level German students in German 202, Winter 2018.
---
Travel Magazine
"Our project will be presented as a travel magazine to the class so that the audience may have a better idea of where to go and what to do when traveling to Germany. We included famous attractions, sightseeing, places to eat and stay, as well as places at night to go and party! We did our research and used some of our personal experience to build a travel plan that appeals to the modern college student. The inspiration for our project comes from our love for travel and the human need to satisfy our curiosity of other worlds and cultures."
--- by Joseph Yoo, Rhys Wheatly, Karlee Gailey, Tyler Hentges
Winter 2017
An example of an outstanding final video project created by intermediate-level German students in German 202, Winter 2017.
---
"Our film is a continuation of the Star Wars series. In our imagination, this film is what could happen in the next episode of Star Wars. There are plot twists, dramatic moments and superb acting. We want to show the class that if you imagine it and want something to be real, you can make it so! We used everyone's skills to benefit the project: Sam's love of videogames, Nicole being a good actress, Max's superb editing skills, and Anna's amazing ability to turn a camera on and off."  –  by Nicole Neumayr, Anna Cowan, Sam Miller and Max Sheets.
Photos from student projects
Winter 2016
Two entertaining projects created by 202-level German students who were inspired by the German hip-hop.
---
Ger 202 Is mir egal…
In a burst of creative enthusiasm two Ger 202  groups had great fun writing and performing a catchy hip-hop song "Is mir egal..." ["I don't care..."], a spontaneous work of Art driven by the sole purpose of having fun experimenting in German. Want to know what CalPoly students care and don't about? Check out these videos.

Please watch the whole class performance here and Alex Saalberg's edition here.
Final Projects 
For their final group project, students had a choice between designing an original game or creating a completely new business. Moreover, they designed and built a user-friendly, elegant and unique website to promote their game or enterprise.
---
"Check Point Charlie"
This is a game about understanding the hardships and obstacles that confronted the German people during and post-World War II. This is like an outdoor obstacle course testing -- depending on how good your German is -- if you can make it past the "checkpoints"

Play the game here.
---
"Mustang Marketer"
is a marketing consulting firm that helps American businesses successfully expand into foreign markets.

Learn more about this firm.
---
"StudySpot"
is a useful app for college students searching for available tables at popular study locations around town.
---
"Kalifornien Natürlich: Gemeinde der Ruhelosen"
This is a company that informs German-speaking tourists about excellent but little-known hiking trails in beautiful California.

Learn more.
---
"Schloss"
This is a fun drinking card-game designed to be played with friends at parties.

Learn more about the game.
Photos from student projects
Related Content